Cross-posted from Cold Button Issues.
Some charities and donors spend a lot of money and mean well but fail to truly help anyone. What are the best things for philanthropically minded people to do and how can they constantly improve? Wouldn't it be great if somebody tried to solve the problem and maybe even find a way to rate the most influential nonprofits?
That was (and is) the goal of the effective philanthropy movement.
This movement predated effective altruism by over a decade and anticipated some early effective altruism claims, but by now has been eclipsed in the public consciousness by the latter movement.
Google Trends for effective philanthropy (blue) and effective altruism (red)

Yet in terms of donations driven or "money moved," effective philanthropy has arguably outperformed effective altruism in the last several years, despite its low profile. How?
What Is Effective Philanthropy?
The book on effective philanthropy says that effective philanthropy is "philanthropy that has impact. It is philanthropy that succeeds at amassing, managing, then allocating financial and human resources in ways that have the greatest positive impact in the sectors that foundations choose to fund."
In a more practical sense, effective philanthropy consists of a few institutions, some writers and thinkers, and a lot of sympathetic foundations. The Center for Effective Philanthropy, run by Phil Buchanan and founded in 2000, is the big player here and receives funding from long established foundations such as the Hewlett Foundation, the Duke Endowment, and the Wallace Foundation. Buchanan is probably the central figure in effective philanthropy, serving as CEP's first executive director, writing a book on the topic, and hosting a related podcast.
There's also the twenty-year old Grantmakers for Effective Organizations, which is a coalition of philanthropic funders interested in sharing best practices and has members from every type of philanthropy you can think of. The Hewlett Foundation also funds an effective philanthropy program.
The Center for Effective Philanthropy, like GiveWell would later do, wanted to know which nonprofits were doing a better job than others. And it didn't want to obsess over administrative overhead or executive pay or simple but misleading measures. It wanted to know which nonprofits were actually fulfilling their function.
Focusing on grantmakers, their approach was to evaluate how well grantmakers were doing by surveying their grantees. And because there is actually a lot of demand for CEP's surveys, foundations and other grantmakers are able to compare their performance to their peers. Grantees are asked a variety of questions about the quality of their funders along various dimensions- general performance, do they advance the state of the knowledge in their field, did they treat their grantees fairly and so on. (Example report) CEP also offers similar surveys for foundation and grantmaker staff.
This methodology can be used across a field and so hundreds of grantmakers across different causes have chosen to use CEP's services.
Their approach had a couple of big differences from GiveWell and the other EA charity evaluators. First, it was less rigorous. The information was useful and effective philanthropy enthusiasts are happy to praise RCTs, but the approach wasn't about building detailed spreadsheets and comparing moral weights of different goods. That said I'm sympathetic to CEP's approach, especially in fields like advocacy or more speculative causes where even effective altruists who focus very strongly about the question seem unsure how to rate different causes and programs.
Second, effective philanthropy was driven by foundations and other grantmakers who wanted to improve. These organizations hire CEP in hopes of learning how they can do better. In contrast, EA charity evaluators rate grantseekers and represent (potential) donors who might be interested in supporting a cause if a charity evaluator indicates they're highly effective. With EA evaluations, a lot of money is at stake for the nonprofits being evaluated. With CEP evaluations, little money is on the line. If a foundation wasn't interested in doing better or didn't think CEP would be helpful they could just not hire them, or ignore the results of any survey.
But the results of at least one of its surveys has had a major effect on American philanthropy.
Trust-Based Philanthropy
In 2013, the Whitman Institute hired CEP to see what their grantees thought of them and their grantees thought the Whitman Institute was awesome. So awesome, that their grantees insisted the Whitman Institute should spend its remaining years trying to spread its philanthropic practices to other funders. This led to the creation of the Trust-Based Philanthropy Project which argues that nonprofits are often inadvertently hamstrung by funders who know less than their grantees but nevertheless try to micromanage them. Instead, funders should defer more to nonprofits and to communities they're trying to serve. This approach is presented as a more humble world view and a step towards greater societal equity. This approach has been favorably covered in philanthropic trade publications such as the Stanford Social Innovation Review and the Chronicle of Philanthropy.
It's also appeared to influence how billions of dollars have been donated. In the last three years, Mackenzie Scott has donated $12 billion. Her public writing on the topic closely aligns with the rhetoric of trust-based philanthropy. She says that she and her husband prefer large donations to organizations she supports "both to enable their work, and as a signal of trust and encouragement, to them and to others" and argues that people working in the field deserve more power and recognition than large funders.
Neither the similarity of her approach to trust-based philanthropy or its overall significance has gone unnoticed. (It's upended philanthropy, says the New York Times!) Her style of giving has been upheld as an exemplar of trust-based philanthropy by the Trust-Based Philanthropy Project, The Conversation, and Forbes.
Am I overstating the role of CEP and Phil Buchanan? It's possible. I don't know for certain what would have happened in a world without him or a world where the Whitman Institute didn't bother to commission a report from the Center for Effective Philanthropy But we do know, Mackenzie Scott is now a major donor to the Center for Effective Philanthropy.
It definitely looks like effective philanthropy has guided billions and billions of philanthropic dollars.
Why Was Effective Philanthropy Eclipsed?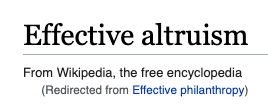 To promote effective altruism, William MacAskill literally wrote a book called Doing Good Better. But if you got a focus group together, handed them a description of effective philanthropy, and then a description of effective altruism, and told them to brainstorm names for each idea or movement, what do you think would happen?
I think they'd name effective philanthropy something like doing good better. For effective altruism, I think they'd probably call it doing good weird. Or doing good different
Effective philanthropy and effective altruism share similar goals of doing good better. But effective philanthropy promoted obviously reasonable and usually uncontroversial ideas. So even when its influence can be observed or felt, it's not that blatant. Effective philanthropy is hard to argue against.
There's a core idea in the writing around effective philanthropy that people on the ground-level of activism or nonprofits are achieving a lot that isn't recognized. Effective altruism charity evaluators are similar in that sense in that they're looking for the best ways to use your money. But the tone is different.
The emphasis in effective altruism involves wading through heaps of underperforming charities to find the all-stars or incubating new charities in under-resourced areas. The emphasis in effective philanthropy is that the people already working on a cause- whether poverty or education or environment- are the experts and funders should be more deferential.
It's a really nice idea that things are already going pretty well and if we're willing to be a little more thoughtful and a little more deferential to the people already doing work, they're going to be lots of great opportunities to give meaningfully. And that everyone who wants to help the world is pretty much on the same team. It's not about declaring that some causes are good and others are bad. It's much humbler in tone.
In his book, Giving Done Right, Phil Buchanan brings up the topic of "goal agnosticism." It might sound like cause neutrality, but isn't. Rather it's the idea that it's hard to evaluate what cause is the best, so philanthropic advisors should just take people's cause preferences as given and work within that cause area to find the best place to send their money.
Buchanan rejects goal agnosticism, in theory. He brings up arguments well-known to effective altruists such as Peter Singer contrasting support for an art museum to support for curing or preventing blindness. Buchanan agrees that all causes are probably not equally worthy. He then raises standard considerations that cut against effective altruism- possible special obligations to local community, intrinsic value of the arts, and the potential role of religious beliefs.
But while Buchanan concedes that you should think carefully about goal selection and some areas are probably way better, he avoids discussing how much better or explicit discussions about how to prioritize between causes. He's not going to tell you that letting the opera go bankrupt is a small price to pay for more deworming efforts in Africa. The conservative Philanthropy Roundtable described his book as presenting a "mild view of philanthropy."
Effective altruism, by claiming that some ways of doing good are vastly better than others, naturally invites controversy, and generates partisans and anti-partisans. It's fun to talk about, fun to argue about. But while endorsing effective philanthropy feels like endorsing the idea of not being wasteful, endorsing effective altruisms feels like registering as a member of a political party.
This is why ideas like trust-based philanthropy can be easily spun off the effective philanthropy movement to stand on their own, while ideas connected to effective altruism often remain within effective altruism.
Important, Tractable, and Neglected
The effective altruism community has generated plenty of ideas and concepts that can usefully exist outside of typical effective altruist concerns. One such concept is the importance, tractability, and neglectedness (ITN) framework where effective altruists suggest the best places to do good will be in areas that are important, it's possible to achieve success, and other actors like governments, corporations, and other philanthropists aren't paying it enough attention.
You don't have to be a utilitarian or interested in typical effective altruist causes like global development to think this is probably a really useful heuristic. Back in 2016, Ian David Moss suggested that all causes are EA causes and at the time was trying to apply cause prioritization to the realm of arts philanthropy.
Personally, I'm a bit of a philistine. But I do think the world would be better if more people outside of effective altruism had tried to be scope sensitive and apply the ITN framework in all kinds of different causes, including the art world.
I can imagine a world where all kinds of philanthropists echo the language and thinking of effective altruists but adapt to local contexts and niche causes. But we mostly don't see that. Parts of effective altruism could spread and have value outside of EA, but why aren't they spreading as far as they could?
Effective Altruism Penumbra
Bryan Caplan once wrote about the libertarian penumbra, a set of ideas that aren't implied by libertarianism but nevertheless are widely shared such as the validity of IQ as a measure of intelligence, the wonders of home schooling, and the value of population growth.
Effective altruism has a penumbra and it's growing fast. It started with ideas like suffering is bad (even for animals) and money goes further in poorer countries. But now I would argue it has come to encompass tacit support for secularism and broadly center-left (but not too left) politics and extreme views about the emergence of artificial intelligence.
In some cases, it leads to strange communication issues where effective altruists want people to not just agree on what should be done, but with certain underlying philosophical commitments.
The clearest example is the language about why we should care about existential risk.
Longtermist: There's a very real possibility that Google or someone invents an artificial
intelligence in the next couple decades. That AI could wipe out humanity!
Normie: Wow, what can we do to stop that?
Longtermist: Wait, it's worse than you realize! You haven't even heard what that could mean for our 40 gazillion space descendants!
Scott Alexander and Neel Nanda have already pointed out that talking about the possible scope of future humanity is not necessarily useful when trying to get people to care about the risk of looming human extinction or suffering due to technologies or other catastrophic events. Effective altruism rests in large part on being much more scope sensitive than the rest of the world. When trying to communicate, bonking people on the head with giant numbers in scientific notation is a very bad idea.
I appreciate the presence of philosophers in effective altruism- a lot. Looking back at history, we can see philosophers and thinkers who had huge long-term influence. Peter Singer is hugely influential in global development and animal welfare. I admire other EA philosophers who take seriously issues like evidential decision theory, the longterm future, and infinite ethics.
But I don't think such concepts need to always be so central when trying to mobilize broader resources.
In theory, effective altruism is a question about how to do the most good or how to do as much as good as possible given the resources you're willing to commit. In practice and in social terms, effective altruism is a take-it or leave-it bundle of claims, beliefs, and institutions.
Effective Altruism is An Idea and A Community
Open Philanthropy just announced it was going to give scholarships to undergraduates students at elite US and UK schools who "are interested in using their careers to do as much good as possible." This emphasis on supporting proto EAs is not unusual, or even remarkable at this point. Open Philanthropy lists its current focus areas on its website, that include global health and development, farm animal welfare, biosecurity and pandemic preparedness, and growing the EA community.
I am skeptical of this cause area and have grown increasingly so! I have two main concerns.
People don't have to believe in effective altruism to do good effectively.
Many of the most dedicated effective altruists were drawn to the concepts and ideas that are central to the community without the extensive outreach projects EA is now running.
People don't have to believe in effective altruism to do good effectively.
A lot of the clearest successes of the effective altruism movement have come from GiveWell realizing that people were doing incredible and effective things before anyone said the words "effective altruism." So GiveWell gave lots of money to those people so they could keep being awesome by doing things like distributing bednets and preventing vitamin deficiency. Recently, GiveWell realized that providing clean drinking water was probably really effective, too! You don't have to be an effective altruist or promote effective altruism to have large amounts of money steered to you by GiveWell or Giving What We Can.
I think the emphasis on global health is reassuring for many reasons, one of which is that it doesn't consist of rich effective altruists giving less rich effective altruists money just to do things and write things.
People effectively working on AI risks or pandemic security are doing a good thing regardless of how they feel about trolley problems. The more money effective altruists spend merely funding other effective altruists the worse the movement looks. Further, if effective altruism is really talent constrained, then the more valuable it is to find useful and productive people outside of the EA community to support.
Many of the most dedicated effective altruists were drawn to the concepts and ideas that are central to the community without the extensive outreach projects EA is now running.
Jacy Anthis wrote up his recollection of the early history of effective altruism and his own involvement in it. He credits a utilitarian web forum, Felicifia, as an early hub for what would become effective altruism and which attracted users such as Anthis but also "Tom Ash, Sam Bankman-Fried, Ryan Carey, Sasha Cooper, Ruairí Donnelly, Oscar Horta, Jason Gaverick Matheny, Will MacAskill, Holly Morgan, Toby Ord, Carl Shulman, Pablo Stafforini, Brian Tomasik, Rob Wiblin, Peter Wildeford, and Boris Yakubchik."
I was a mere lurker on Felicifia but literally last weekend I was talking to someone (not listed above) who mentioned he learned about effective altruism because he was also a Felicifia user.
Even without the extensive institutional support effective altruism now enjoys, those drawn to its concepts were finding a way to connect online and would go on to be prominent members of the effective altruism community. I'm sure if there had been a more developed effective altruism movement at the time most of the people mentioned would have joined and probably more as well. But there have got to be diminishing marginal returns in terms of recruiting more effective altruists.
Anthis also suggests that there are important differences between the people who found their way to effective altruism before there was a fully-fledged community and those who are drawn in now, arguing that "a far smaller fraction of new EAs in 2022 are die-hard utilitarians the way many of us began our journeys from 2008 to 2012."
Trying to recruit people to subscribe to a contested moral philosophy is hard, especially when it's bundled with a bunch of other claims about technological development, obscure decision theories, and specific social norms.
But EA is putting more and more resources into trying to do just that.
Recommendations
If you are the type of person who would be an effective altruist and you regularly consume English-language media and use the English-language web, I think you're going to become an effective altruist.
Almost all of the grants listed on Open Philanthropy's website for the focus area of "effective altruism" community growth are focused on the US or the UK (CEA). That's not to say all of them. The Atlas Fellowship which is supported by Open Philanthropy is trying to recruit talented students all around the world. Further, Open Philanthropy has provided support for the Effective Altruism Infrastructure Fund.
The Effective Altruism Infrastructure Fund lists some of its grantees online. While it still heavily backs US and UK institutions and individuals, it has also backed initiatives around the world including Germany, the Netherlands, the Philippines, and Czechia.
But the tilt is obvious. I'm not trying to say effective altruists should be "fair" about outreach, I think focusing on the most impactful areas is justified. Investments at elite universities are plausibly a better use of resources than at every university. And when it comes to shaping global outcomes via policy advocacy, some countries (America) are just way more important.
One criticism of effective altruists is that they're too sure of themselves- they think they're going to launch meaningful systematic reform or fix research norms or prevent artificial intelligence from wiping out humanity. But I think that's the strength of the movement. It recognizes how awful some things in the world are and how scary the future can be. But it also recognizes how powerful humans can be and how ordinary individuals shouldn't shy away from making big, moral, decisions. Effective altruism can also inspire people to donate a meaningful share of their income to charity or switch career paths or volunteer for medical experiments to speed up vaccine development.
But I think there are already sufficient resources for hard-core utilitarians or many would-be "moral saints" to end up as effective altruists- at least if they speak English.
Instead, within the United States and the United Kingdom I think the emphasis should shift to encourage people to work effectively on important organizations, without having to subscribe to certain ideological labels or without having to know who William MacAskill, Toby Ord, or Peter Singer are!
I also think EA funders should consider seeding cause-focused communities or student groups that focus on important issues, not just EA community groups. In theory, Giving What We Can groups could have served this function in terms of global health and development. However, it has now, like the rest of the effective altruism community, moved towards longtermism and general effective altruism.
I think major effective altruism funders should fund community efforts around specific focus areas where they don't exist, without the tacit expectation that every person worried about artificial intelligence or global poverty, is some proto-effective altruist that just needs to be lured out of their cocoon. Fund "Students Against Pandemics" and "Engineers Against Extinction." Give money to political groups to encourage them to take existential risks seriously, maybe sponsor sessions at the next meetings of the Federalist Society and the American Constitution Society. Figure out what the most promising animal welfare group is and encourage community-building around it, even if it has a different philosophical basis.
Give major NGOs grants so they can carry out internal or external evaluations on how they can operate more effectively. Hire Phil Buchanan and the Center for Effective Philanthropy to see what they think about the best ways to spread the core values of effective altruism.
Not everybody is going to be an effective altruist. But effective altruists can support people everywhere in being altruistic, effectively.