We've started making audio narrations of some of the best posts from the EA Forum.
As of today, you can subscribe to the podcast:
EA Forum (All audio)
Audio narrations from the Effective Altruism Forum, including curated posts, posts with 30+ karma, and other great writing.

Subscribe:
Apple Podcasts | Spotify | RSS | Google Podcasts (soon)
Edit 2023-05-30: we reworked our podcast feeds a bit. We've updated the list above to reflect the latest selection.
---
You'll also start to see narrations embedded on the EA Forum post pages themselves.
If a narration is available, you'll see a blue loudspeaker button: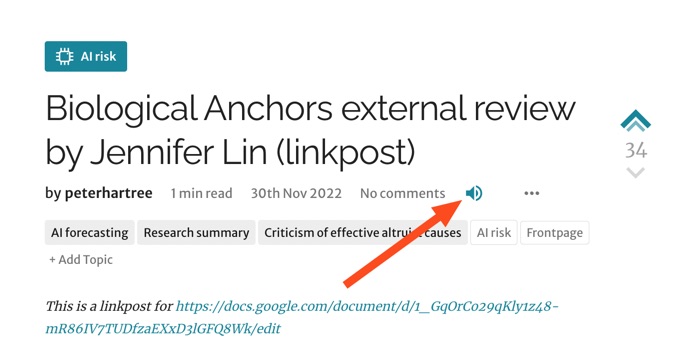 ---
What can I listen to now?
Some of the winning entries from the EA Criticism and Red Teaming Contest:
Some posts that were recently marked as "curated":
Cool. But I have a lot of things to listen to. Could I just get the curated posts, or maybe just the summaries?
Yes. You can subscribe to either of these:
Edit 2023-05-30: This feed has been retired. Subscribe to "Effective Altruism (Curated & Popular)" instead.

EA Forum (Curated posts)
Audio narrations of curated posts from the Effective Altruism Forum.

Subscribe:
Apple Podcasts | Google Podcasts (soon) | Spotify | RSS

Edit 2023-05-30: The summaries project has been discontinued.

EA Forum (Summaries)
Weekly summaries of the best EA Forum posts. Written by Zoe Williams (Rethink Priorities) and narrated by Coleman Jackson Snell.

Subscribe:
Apple Podcasts | Google Podcasts | Spotify | RSS
What about AI narrations? I want to listen to everything!
The Nonlinear Library project is currently generating AI narrations of all posts that meet a fairly low karma threshold.
Within the next few months, we are hoping to collaborate with Nonlinear to develop a system that generates even better AI narrations for most or all EA Forum posts. We see a path to better pronunciation, emphasis, and tone, and also to much better handling of images, graphs and formulae.
Who is working on this?
This project is run by the EA Forum Team, in collaboration with TYPE III AUDIO.
What about the existing "EA Forum Podcast"?
In July 2021, Garrett Baker and David Reinstein started a volunteer project to narrate EA Forum posts. The most recent narration was published in January 2022. Since September they've been publishing Zoe and Coleman's weekly summary episodes.
We are grateful to Garrett and David for their work on this.
We've not yet heard what they plan to do next—presumably they'll release an update to subscribers in due course.
Thoughts, feedback, suggestions?
We'd love to hear from you! Please comment below, or write to team@type3.audio.
If you're already listening to Nonlinear Library AI narrations, we'd be especially interested to hear what you think of them. What would you most like to see improved?